If you've sensed that I've been on a Diane Lockward kick lately, you're absolutely right!

First, I posted "I'm Lonely as the Letter X," and then, "Eve's Confession." I may as well top those off today with a third poem from her most recent collection, What Feeds Us, called, "Heart on the Unemployment Line."

It's a nice example of Lockward's fondness for peeling off the skin and breaking open an idea, feeling, or experience. Here, she riffs on the clichés of the heart, making the familiar fresh. Lockward's fine tuned catalog of human emotion is both playful and poignant; the "mistress of diction" serves up a fine feast, warm cockles and all.

HEART ON THE UNEMPLOYMENT LINE
by Diane Lockward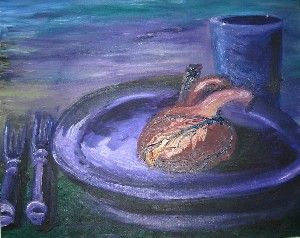 "Dinner is Served" by missdarlyn.

It's a good heart,
in the midst of the matter,
not dangling on anyone's sleeve.
Previously left in San Francisco.
Experienced being wrenched and hung out to dry.
No daws peck at it now.
Works hard, never skips a beat, shows up on time,
even with throbs and aches, even when sick.
Four-chambered pumping machine the size of a fist.
Pumps its store of blood each day,
always in circulation, making its rounds.
Team player, cooperates with capillaries,
arteries, and veins, all blood-saturated.
A versatile heart, innocent or evil,
sweet or bitter, light, heavy, full, faint, or dear.
Systematic, keeps to a schedule.
Once stolen by a nimble-fingered thief, high
on a hill, later returned.
Occasionally stays up late playing cards,
enjoys the shuffling, the quick flutter,
being held in someone's hand.
Grows fonder during absence,
pours itself out, likes its cockles warm.
Always at the center of things -- artichoke,
palm tree, head of lettuce. More reliable than the brain.
This heart won't burn, arrest, attack, or fail.
Once was dropped and broken, sutured by Time.
Never taken a bullet though something like a knife moved through it.
Even in grief, it keeps on beating.

*Posted by permission of author, copyright © 2006 Diane Lockward, published by Wind Publications. All rights reserved.

I highly recommend What Feeds Us. It's one of the few collections of contemporary poetry I've read in recent years (aside from Billy Collins) where I've actually liked every poem. I can't think of anyone else who is as adept at exploring the rich sensuality of food, and its many emotional and sexual connotations (you may already know "Blueberry," "Linguini," and "The History of Vanilla"). Diane is fearless and full of fire, and will often take you to places you never expected.

To hear her read "The Fruitful Woman," from Eve's Red Dress (2003), click here. You may well be tempted to bathe in berries. ☺

Today's Poetry Friday hostess is the lovely

♥

Elaine Magliaro

♥

of Wild Rose Reader, who has a true poet's heart. There are many delicious offerings on the menu, so click through!

ETA: Read this beautifully written, detailed review of What Feeds Us by Judith Montgomery at Valparaiso Poetry Review. Lots of thoughts about individual poems as well as "The History of Vanilla" in its entirety!



Copyright © 2009 Jama Rattigan of jama rattigan's alphabet soup. All rights reserved.



Current Mood:

okay