#10 in the Poetry Potluck Series, celebrating National Poetry Month 2011.
Oh boy, look who's back! Toby Speed and her poetry loving cat, Kashi!

They were last here to help us celebrate National Cat Day, and since then, Kashi has come to the rescue by filling in for Toby on a couple of Poetry Fridays. Kashi has exquisite taste when it comes to poems, so I have a sneaking suspicion she had something to do with today's selection. After all, it's about fishing.

*Kashi licks her chops*

There are no rods, reels or boats in Toby's magical poem. But there's a lighthouse keeper who kite-fishes! I love the other-worldly dreaminess of the narrative, hovering just where fantasy meets reality. This charming gem, with its haunting lyricism and air of mystery, is full of beautiful images and has a timeless quality about it.


Get ready to fall under its spell!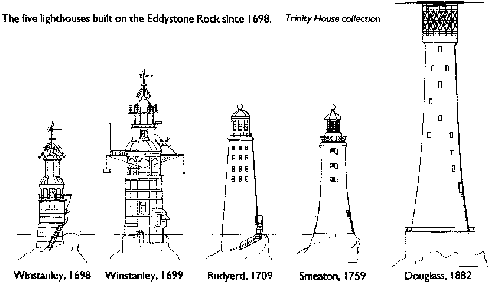 Kite-fishing supposedly originated at Eddystone, off the Cornish coast of England. The Smeaton Tower is the most notable of the four structures built at the site, as it marked a major step forward in lighthouse design.
Toby: Back when I was researching lighthouses for a middle grade novel called, The Lighthouse Dancers, I learned about an ancient sport called kitefishing that lighthouse keepers enjoyed. They'd attach a fishing line to a kite, launch the kite from the high window of their lookout, and let the line drop into the sea. In my book, the Sandman climbs down from the sky on a rope attached to a distant star, and he lands next to a lighthouse on Long Island that's particularly favorable for collecting sand to put in sleeping children's eyes. All of this imagery came together in my mind to help create a poem called, "The Kitefisher."


THE KITEFISHER
by Toby Speed

I am the keeper of the lighthouse light.
I fish by kite.
A long line goes from hand to kite,
another from kite to sea.
A line to the sea, to the wrinkled sea,
while the kite swings high and low,
pulling the net that ribbons away,
billowing net in the white-tipped waves,
and the wind blows up
and the wind blows out
where the golden kitefish go.
All that I see in the sea is mine.
I have my pick.
Opaline sea where the fish run thick --
but they slip away,
they slip through the net,
go leaping from crest to crest.
"Stay," I call.
"Oh, no," say the fish.
"Maybe another time. Maybe next year."
And, grinning, they disappear.
The beam of light sweeps over the sea,
over their backs it rolls,
over the fish as they scallop away,
shimmering fish in the white-tipped waves.
And nobody comes

nobody comes

nobody comes at all.
My friend the moon is a cake that grows
and shares itself with me.
And all its slices, slicing down,
night by night until it's gone,
grow back again one day.
Kitefish, come, it's time for tea.

A slice for you, a slice for me.

And shadow cookies with our tea.

And shadow cookies by the sea.

I am the keeper of the lighthouse light.
I watch by night.
And when the sandman wishes for sand
he fishes from his star.
A long line goes from star to moon,
another from moon to shore.

A line to the shore, to the pebbled shore,
while the moon hangs heavy and still.
Here's his bucket scooping sand,
sleeping sand for children's eyes,
and the wind blows up
and the wind blows out
while the sandman's bucket fills.

Sandman, listen:
all of the sea that you see is yours.
You have your pick.
Under the lighthouse the sand runs thick
with wishes that turn to pearls.

Don't you know I'm a fisherman, too?
I have a line like yours.
I have a table and three small chairs.
But nobody comes

nobody comes

nobody comes at all.
Tonight by moon I saw his line
get tangled up with mine.
My big fish jumping got away,
but quick the sandman in his nightcap
skibbled down the line.
Down from the star
you came in time
and took the tangles
out of the twine.
A line to the sea,
to the wrinkled sea,
a line to the shore,
to the pebbled shore.
One from a kite,
and one from the moon,
hanging side by side.
Sandman, come, it's time for tea.

A slice for you, a slice for me.

And shadow cookies with our tea,

And shadow cookies by the sea.
He rode my kitefish back to shore
and looked at me
as I looked at him.
"What's in your bucket?" I called to him.
"Three fresh slices of moon," he said,
"I cut on my way down."
Fishing, wishing, I fished them up.
Soon we were ready for tea.
The moon was a yellow wheel in the sky,
spinning confetti into the sea.
"A slice for you, a slice for me,

A slice for the fish who came from the sea,

And shadow cookies with our tea,"

The sandman said to me.
And I have a table with three small chairs
and company tonight.
© 1998 Toby Speed. All rights reserved.



Montauk Lighthouse, Long Island, New York.

This lovely poem made me want to learn more about kite-fishing and lighthouses. I asked Toby if she had any specific Long Island lighthouse in mind when writing her poem. She especially loves the Montauk and Fire Island lighthouses, and used to circle around the Montauk Lighthouse in her Piper Cherokee. I didn't realize there were so many lighthouses in Long Island (24), each with its own personality. Some have really cool names, like Plum Island and North Dumpling.





North Dumpling Lighthouse is in Fisher Island Sound. The island on which it stands is privately owned by American entrepreneur Dean Kamen, who invented the Segway.



I like to imagine the lighthouse keeper at North Dumpling making and eating dumplings to pass the long hours -- when he's not kite-fishing, of course.☺ There's definitely a romantic quality about lighthouses, and so very fitting that at one time, Toby dreamed of living in one. I can just see her up there, writing more wonderful poems.

Now, we've set up a table with three small chairs. One for you, one for the Sandman, and one for Kashi. We're serving tea and Mystery Cake.

Toby: It's sweet and delicious and keeps its mystery best when served in person, for you can then ask your guests what they think the mystery ingredient is. My mom often makes this cake, which is a favorite in our family.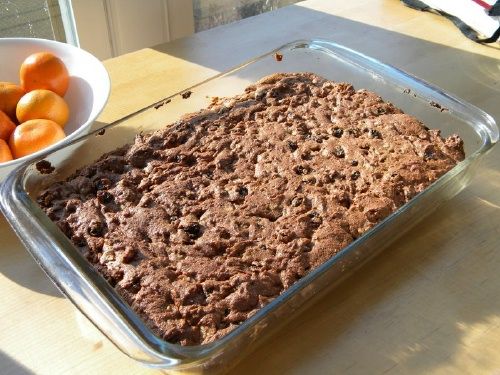 MYSTERY CAKE

2 cups flour
1/2 tsp salt
1 tsp cinnamon
1/2 tsp nutmeg
1/2 tsp cloves
1 tsp baking soda
2 T butter
1 cup sugar
1 can tomato soup
1 cup chopped walnuts
1 cup raisins

Cream butter and sugar together. Mix flour, salt, cinnamon, nutmeg, cloves and baking soda. Stir flour mixture into the sugar mixture in three parts, alternating with thirds of the contents of tomato soup. Stir batter until smooth. Fold in nuts and raisins. Bake in greased tube pan (or 9 x 13 rectangular pan) in 350 degree oven for about 45 minutes. Ice if desired.
--------------------------------------------------------------------------


Jama: Must say how much I love the mystery ingredient. In fact, no home should be without it!



Kashi: Cake, Schmake! What about all those fish that slipped through the net? Okay, now you're talkin':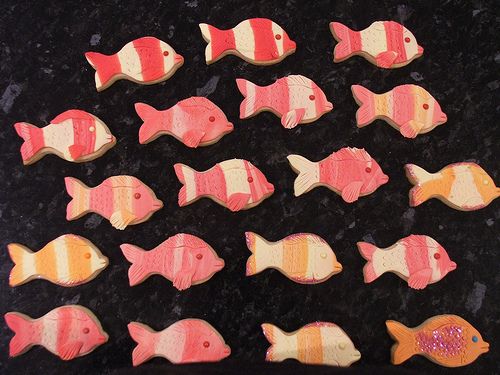 Sweet Treacle/flickr



Yum! Time to hear all about Toby: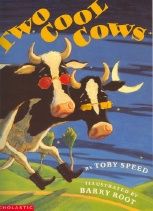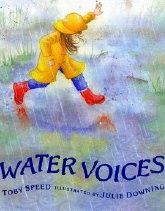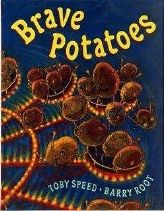 Toby Speed is an author and poet from Long Island who likes to fly, photograph cool clouds, eat lots of chocolate and cater to play with her beautiful cat Kashi. Her picture books include Brave Potatoes (2000), Two Cool Cows (1995), Water Voices (1998), Hattie Baked a Wedding Cake (1994), and Crawly Bug and the Firehouse Pie (1993). She has also published widely in children's magazines, and is currently a Senior Writer for Stonybrook University. These days, Toby is busy revising her first adult mystery novel, Death Over Easy, which is about a short order cook at a luncheonette who is found dead with her face in a bowl of pancake batter. Intriguingly delicious, no? It takes place in the real village of Port Jefferson, on the North Shore of Long Island, and you can read a conversation with one of the book's characters
here
.

Toby just celebrated the first birthday of her wonderful blog,
The Writer's Armchair
, where she participates in Poetry Friday, posts quotes about writing, and shares news about and interviews with Long Island children's writers and illustrators. I especially enjoy "Three for Tea," a twice-monthly special feature, where three guests answer one question about writing or publishing, and another guest shares a sweet recipe. There is more than ample evidence that Toby is indeed a writer after my own heart, for she has already worked her magic with wedding cakes, pies, exceedingly courageous potatoes, and now, pancake batter. Kashi's Her favorite food? Tuna melt, of course!
For even more high-flying adventures, visit Toby's official website.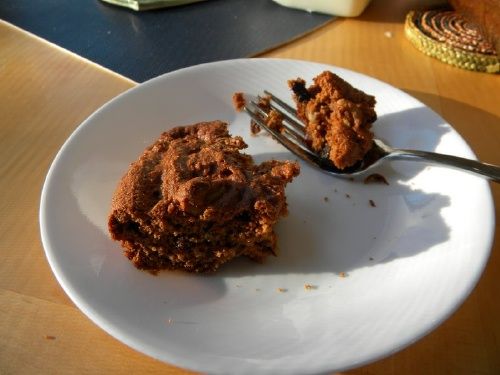 Thanks, Toby and Kashi, for the kite-fishing, lighthouses, cake and good company!

♥ Today's Poetry Friday Roundup host is Diane Mayr at Random Noodling.

♥ Previous Potluck Poets: April Halprin Wayland, Carol Weis, JoAnn Early Macken, Heidi Mordhorst, Diane Mayr, Jessica Swaim, Irene Latham, Barbara Crooker.

♥ Full list of Poetry Month events can be found at Kidlitosphere Central.



*Montauk Lighthouse photo by

oldsamovar/flickr.

**North Dumpling Lighthouse photo byKen Zirkel/flickr

.





Copyright © 2011 Jama Rattigan of jama rattigan's alphabet soup. All rights reserved.
Current Mood:

chipper