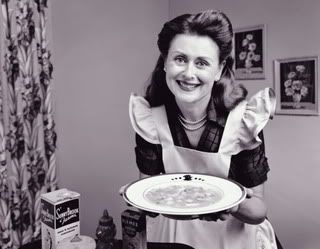 "Do you have a kinder, more adaptable friend in the food world than soup?
Who soothes you when you are ill? Who refuses to leave you when you are
impoverished and stretches its resources to give you a hearty sustenance
and cheer? Who warms you in the winter and cools you in the summer?
Yet who is also capable of doing honor to your richest table and impressing
your most demanding guests? . . . Soup does its loyal best, no matter what
undignified conditions are imposed upon it. You don't catch steak hanging
around when you're poor and sick, do you?" ~ Judith Martin


Ah, dear soup, you alone have stuck with me through thick and thin!
Apparently, lots of other folks feel the same way. Approximately 10 billion bowls of soup are consumed in the U.S. each year, with 57 million gallons slurped up in the month of January alone!
Chances are very good that you've already had some soup today, or are planning to. But I'm wondering just what kind. It seems your soup of choice may say a lot about your personality.
Back in 1999, University of Illinois Professor Brian Wansink, who heads the Food and Brand Lab, polled 1000 random Americans about their soup preferences, and then cross-tabulated these results with personality and lifestyle traits. Before I share the delicious details about soup and personality, pick your favorite from these choices:
CHICKEN NOODLE
TOMATO
VEGETABLE
NEW ENGLAND CLAM CHOWDER
MINESTRONE